Lagbot Hogs the Bandwidth
Ralph's lawn was getting out-of-hand. The grass was going to seed, the neighbors had started to complain, and he'd received his first citation from the city (along with a $250 fine). But he had no time for lawn maintenance, and besides, he didn't even have a lawn-bot!
He had a kitchen-bot, though. Katt (Kitchen Aid Three Thousand) could not only do the shopping, cook, and do dishes, but she could mix a mean highball. A little too mean, Ralph often thought. A little easy on the whiskey wouldn't hurt the booze budget. Ralph hardly ever ate at home, though, and preferred beer most of the time. Katt was really going to waste.
He checked craigslist under bots and saw someone had a used Lawn & Garden Maintenance bot up for sale. "Just moved into a condo. No need for my Lagbot. $3000 obo." Ralph e-mailed the guy and asked him if he'd consider a trade for a gently used Katt unit.
Within minutes, he got a response. "Your trade sounds good to me, I'm absolutely buried in dirty dishes and I've eaten nothing but tater-tots since I moved in. My old place had a built-in kitchen bot, I never knew how much I'd need one."
Ralph drove Katt over to this fellow's condo, gave her a hug and thanked her for all the "great" highballs.
Almost immediately he got off on the wrong foot with the Lagbot. "Nice ride," Lagbot said, "mind if I drive?"
"Yes, actually," Ralph said. "You know it's a violation of federal regulation 27b-6 for a robot to operate another bot without an API."
The Lagbot mumbled something about quadrilaterals.
---
A few days later, Ralph ran into his friend Frank at Hanover's, a German bar he liked to frequent. "Ralph! How the hell are ya?" Frank said as he sat down next to his friend.
"Not good," Ralph said. "I didn't think I would miss Katt so much, but you never know how much you like a stiff highball until you're practically a prisoner in your own home."
"Well, now--I know plenty of folks get attached to a bot, especially a kitchen bot. But what's wrong at home?"
"Frank, it's the stupid lawn robot I exchanged Katt for--a Lagbot unit. He sits around all day drinking my beer and hogging all my bandwidth. Not only that, but he hasn't done a lick of work since I got him. The lawn's up to 10 inches now, and I just got a $500 fine from the city."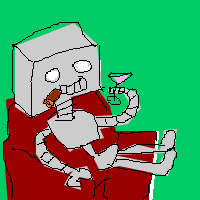 "Wait a minute," Frank said, "You traded Katt for a Lagbot? Are you crazy?"
"Well, I know a Katt unit is more expensive, but I didn't think it was that bad a deal--"
Frank cut him off. "It's not that, Ralph. It's just that...
...
...
...
...
...
...you know what they say...
...
...
...
...
...
...'A swapped bot never toils.'"
---
21-Oct-2008. Complaints, groans, and death threats to chris@osric.com