Bench Marks: 22 Selected Poems
By David Offutt
ISBN 0-9663757-0-X
published 2001 by Osric Publishing, Ann Arbor, Mich.
5.5" x 8.5", 24 pages. Card stock cover.
$3.00 post-paid (Order Online!)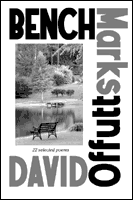 David Offutt "...observes casual moments and, with focused perspective magnifies them, illuminating flaws, perfections, and the cosmic ironies of modern life" in Bench Marks. Bench Marks is David's first collection.
David Offutt started writing poetry twenty years ago while still in school. After a break of more than ten years he started writing again. As a "new voice," David has more than twenty poems published in more than a dozen literary journals.

David Offutt currently lives in a suburb of Chicago. When he is not writing, he is working in the garden, painting, or remodeling his house.
Two poems from Bench Marks also appeared in White Crow, V.4 i.4.
For more information about David Offutt, visit his personal web site, www.davidoffutt.com.
Order by mail:
Send $3.00 check or money order to:
Bench Marks c/o Osric Publishing
106 S 13th St #2
Philadelphia PA 19107