Thunder Mountain
This page contains some resources about Thunder Mountain. (Which Thunder Mountain? The art site built by Chief Rolling Mountain Thunder in Imlay, Nevada.)
---
Which Thunder Mountain? The monument built by Chief Rolling Mountain Thunder, in Imlay, Nevada.
If you know of other sites, please let me know: chris@osric.com
---
(photos by Christopher Herdt and Mrrranda Tarrow)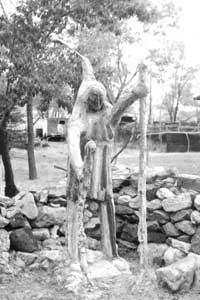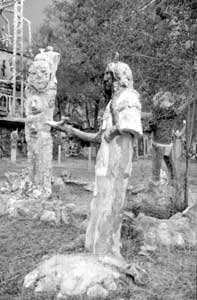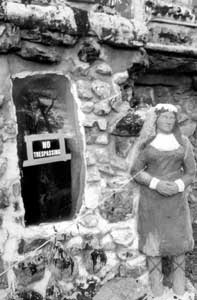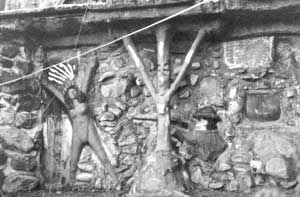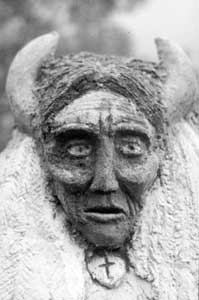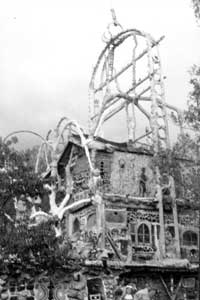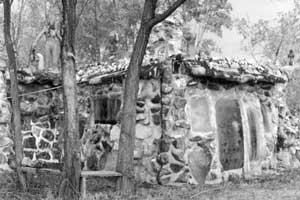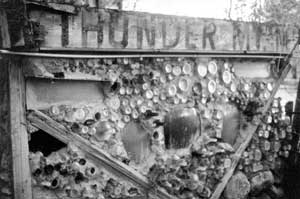 ---
(Editor's Notes from White Crow, Vol. 4, Issue 4)
Thunder Mountain is located outside Imlay, Nevada, which is about three hours away from anything. It is a collection of buildings and sculptures built out of debris (such as car parts and televisions), wood, and mortar.
It was created over a period of twenty-one years by a man who called himself Chief Rolling Mountain Thunder (Frank Sidney Van Zant, b.1921-d.1989). He was, according to one source, a World War II veteran, originally from Oklahoma, who had been terribly burned in a tank battle in Leipzig. He came to this remote location in 1968, resumed using his Creek Indian name, and began to build. He proclaimed Thunder Mountain a monument to the injustice against Native Americans. He lived on the site with his family...to him, Thunder Mountain was home.
It was proclaimed a National Monument by the US Government after Rolling Mountain Thunder's suicide, and was entered into Nevada's registry of historic sites in late 1992. His suicide coincided with the completion of Thunder Mountain (although there is some dispute as to whether it is actually complete).
I had never heard of Thunder Mountain until the day Mrrranda and I spied the structure while driving west on I-80. There was a single sign at the side of the freeway that said Thunder Mountain National Monument. Mrrranda and I were the only people there, and possibly the only visitors all day...or all week.
No gift shop, no color brochures. Just typed pages and newspaper clippings tacked to a board behind scratched plastic. No admittance fee, just a sturdy box marked "donations."
As the sculptures and tvs and junk cars revert from art to junk, this monument, to what many feel is an ongoing tragedy, will disappear. A monument built on the violent anger of tragedy rather than quiet sorrow. A monument that we are, perhaps, not ready to see.
---
Crowright 2000
Osric Publishing
, published simultaneously in
White Crow
.