Laszlo Novotny is a Czech artist living in Prague. Everything I know about him is on this web site.
If you are a first time visitor, or are not familiar with Laszlo Novotny's work, please view his artwork now.
I first came across Laszlo Novotny's work in late 1998 through a friend, Jon van Oast. Jon was in Europe for a technology conference, and decided to take a trip to Prague while he was on the continent. Prague has become, since the fall of the iron curtain, a mecca for young people and artists from all over the globe. Many locals try to capitalize on this and become street merchants…Laszlo Novoty is, in some senses, among them.
Jon saw, among the throngs of merchants, a young teenage boy, off by some alley, barely seen, hawking a bizarre-looking print of a cat.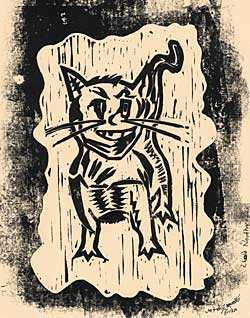 The boy looked like a street urchin straight off the pages of a Charles Dickens' novel…tattered clothes, dirt on his cheek. Jon took a closer look at the print the boy was selling. It was monstrously bad…some sort of demon cat, printed with bold black lines on plain white paper. It was one of the most horrible prints he'd ever set eyes on.
Naturally, he thought of me.
(I love bad art. For example, I have twelve different versions of Dogs Playing Poker in my apartment.)
Jon tried to buy one, but he didn't know a word of Czech, and the boy didn't know English. Jon eventually pulled out a few American dollars, and the kid was evidently pleased. He handed a small stack (six, as it turned out) of the prints to Jon.
Jon gave him a pen, and urged him to sign the works. He scrawled some message at the bottom of each, indecipherable to most of us.
Jon gave me five of the prints. I loved them. I had one framed at a local shop and it's hanging on my wall now. But what would I do with the other four? I do not know very many bad art aficionados.
So I posted it on ebay.com. It went over well, and I ended up selling two of them. The greatest part of the auction, though, was not the thirty-odd dollars I received. A gentleman saw the auction who was not interested in the print, but he did know Czech. He said the name appeared to be "Laszlo Novotny" (a common Czech name), and the title was "Strange Old Girl". The wonderously bizarre title only added to the value in my mind!
Six months later, when I heard my friend Eric was going to Prague for a digital animation consultation, I begged him to look for Laszlo Novotny. I got word from Jon that he'd seen Laszlo in a popular tourist district, near the Karluv Most (Charles Bridge; see map). I didn't expect that Eric would find him, but maybe would hear word of this ragamuffin print-maker.
Luck was with us all, I believe, for Eric did find Laszlo Novotny. This time Laszlo was hawking a bold print of a frog on the verge of devouring a fly, emourmous tongue completely extended. He also had with him an even stranger print--a giant deformed bird, with a smaller bird clutched in its talons, and a very frightened man seemingly running from the scene.
Realizing the fortune he'd found, Eric traded some American dollars for a small stack of prints…eight of each.
We were able to distribute some of these to bad art lovers via ebay, but we did not have the luck to find a translator this time. The titles are still unknown.
And recently, my friend Ami visited Prague on a whirlwind European tour with her newlywed husband, Byron. I again imposed upon my friends: please, seek out Laszlo! We need to share his work, his stupendously awful art, with the rest of the world!
Jackpot. They managed to find him, again in the same area of Prague, and buy one of his most twisted yet. It depicts some sort of enormous lizard about to devour a strangely human-like simian. It is Laszlo's first print with color: a rakishly applied red splotch, indicating blood, over the top of his usual bold, black lines.
I love the works of Laszlo Novotny, and want to do my part to share them with the world. If you, or anyone you know, are going to Prague, please tell them to look for this boy near the Karluv Most. Buy some of his prints…believe me, you will know it is really him when you see his work! I will gladly pay you any reasonable fee.
Sometimes I laugh to think how much many of us love Laszlo Novotny's work, not because it is brilliant, but because it is bizarre, horrible, and fascinating. I think about how he must dash off these creations in the short hours between school and work, perhaps on a dirty kitchen floor, hoping to supplement his family's income. Laszlo Novotny. The name alone inspires in me the greatest hopes and the wildest ambitions.
Perhaps, someday, I myself will be able to travel to Prague. If I can find Laszlo, I very much want to bring him here to the states, and perhaps see if we could host an art show, a huge bash on the order of one of Truman Capote's infamous parties, to celebrate the life and opus of this relatively unknown, but undisputed master, of bad art.