Early this morning, Nicola was bugging me to add a data plan to her phone account in anticipation of receiving her shiny new MyTouch. We logged on to the site using our favored browser, Google's Chrome. Here's what we found:

After several unsuccessful attempts to view info for her line from several different screens, we called T-Mobile's customer support. The service rep walked through the same steps and said, "OK, now you should see tabs on the left with your names, phone numbers, and 'Add A Line'."
That's when it hit me. I should try a different browser.

The same page in Firefox:

(The big 'Image Not Available' is a different matter–that's because my phone, in spite of the fact that I bought it from T-Mobile, is almost 4 years old, and therefore no longer exists from the perspective of their web site. Planned obsolescence at its finest.)
The same issue affects Safari, the default browser on the Mac. According to one browser statistics report, Chrome and Safari accounted for 9.1% of traffic in June 2009. Stats for a site I work with show 13.6% of visitors use Chrome or Safari (presumably due to a higher Mac userbase).
If we the relevant sections of the web site had been accessible to us, T-Mobile could possibly have avoided an expensive customer service call. Making your web site cross-browser compatible is worth money.
One last comment: what if Javascript is turned off? Does the T-Mobile site degrade gracefully?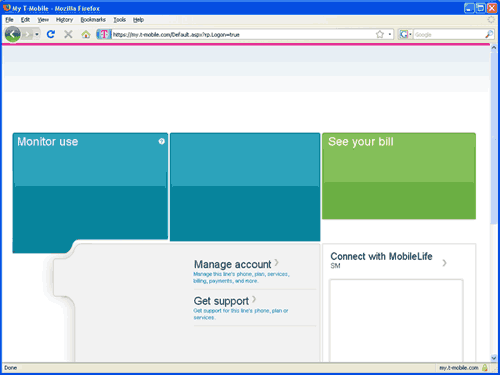 The site, which relies heavily on Javascript and AJAX, becomes completely unusable.